A World of Opportunities
July is here bringing with it summer heat, and a world of opportunities for Santorini's visitors to explore and experience.
Two of the best paradigms of Santorinian summer spirit are the epic sunset and the unique wine varieties. They don't necessarily have to be enjoyed together; yet if your timing is right, combining an exquisite Assyrtiko just when the auric and caramel beginnings of the sunset start to paint the sky, what your mind's camera and glass will capture is in fact awe-inspiring. However, you do not need to be a drinker to enjoy a glass full of …happiness and secondly, sundown is not the only time you can indulge in an amazing view; it is simply the blondest, warmest capture of an otherwise spectacular sky.
That being said, we invite you on a photographic journey happening in the wonderful world of Art Maisons, Santorini.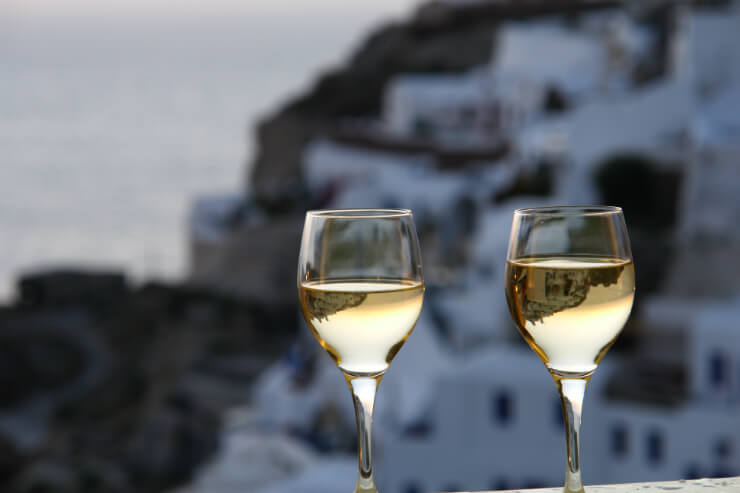 Simply wine-tast-ic
A glass of quality wine can be enjoyed with a light lunch, can fully complement a fancy dinner, while it can also be enjoyed without any food at all, as a social drink, anytime of day! Santorinian wine labels carry a history of their own, and achieving world class status with respect to their their varieties: the dominant white grape varieties of Assyrtiko, Aidani and Athiri have given birth to a plethora of delectable wines. Explore them all by taking a wine tour and learning about the varieties. The dry white wines go especially well with a platter of cheese and crackers that will complement the citrus and structured aromas of the Assyrtiko types, while the naturally sweet Vinsanto is more associated as a dessert wine.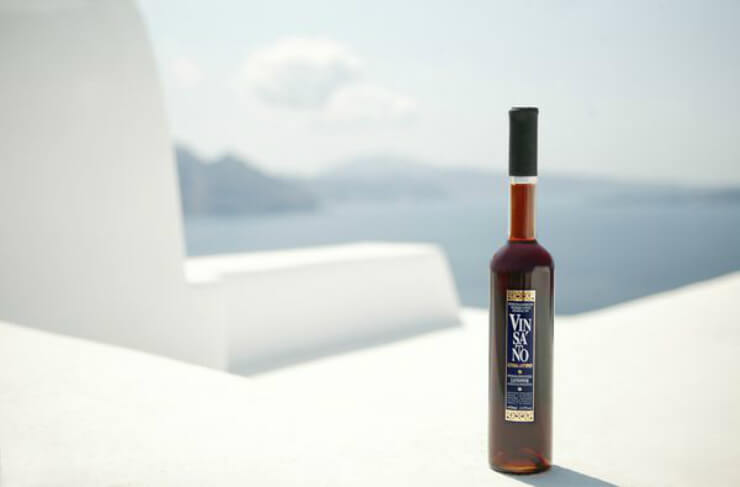 The crown jewel of the island, the Vinsanto is also made into a liqueur that is like a taste of …ambrosia! If you are not a fan of the very sweet wine variety then try the less sweet Mezzo wines, that go well as an aperitif with some mixed nuts and dried fruits. The fuller bodied red grape varieties are mainly Mandilaria and Mavrotragano that have stronger cherry and sour cherry aromas. Expertly blending these with the white grape varieties brings us a multitude of delicate rose wines that go with just about anything… and they all go with the gorgeous Santorinian sunset that you can enjoy directly from your private terrace at our Art Maisons Oia Castle Luxury Hotel!
Simply well-tastatic
Yet Santorinian caldera views are not only about the sunset and glasses can contain other forms of happiness too! For example, indulge in a glass full of …morning wellness! Start your day right with a glass full of fresh fruits, packed with essential nutrients to give you the much needed energy to seize every experience you desire. Enjoy it slowly, while taking your time to fill your spirit with an endless blue view of hopes and dreams. In Santorini, you have many reasons to daydream…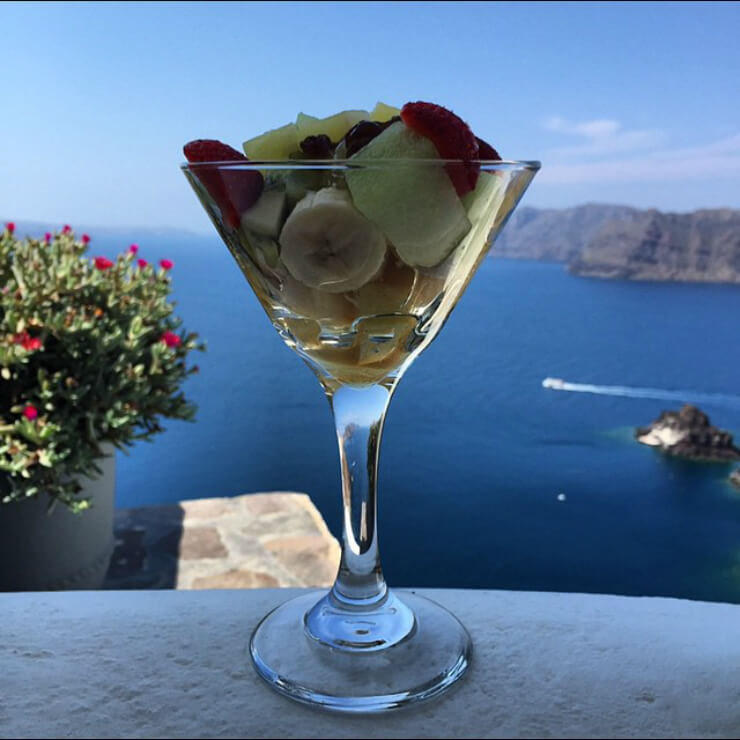 Fitness also has a place here, and the corresponding perennial glass of happiness for that is simple: H2O. Since you can enjoy your private terrace in one of our luxury suites, there is nothing stopping the fit among you to take your mat out and perform some stretching, yoga and/or pilates, against the pastel blue canvas that is your horizon today.
Outdoor spa treatments can also be arranged, for the full pampering package. What better than experiencing total relaxation while watching a sky of utter splendour? Finish off your session in utter perfection, with a refreshing freshly squeezed juice or an invigorating glass of sparkling water to rehydrate you and give you that complete sense of wellness.