Activities in Santorini
Although mostly known for its lunar landscaped beaches and magical sunset, the island of Santorini has much more to offer than romantic days and nights overlooking the vastness of the Aegean or the mesmerizing sun setting into the sea!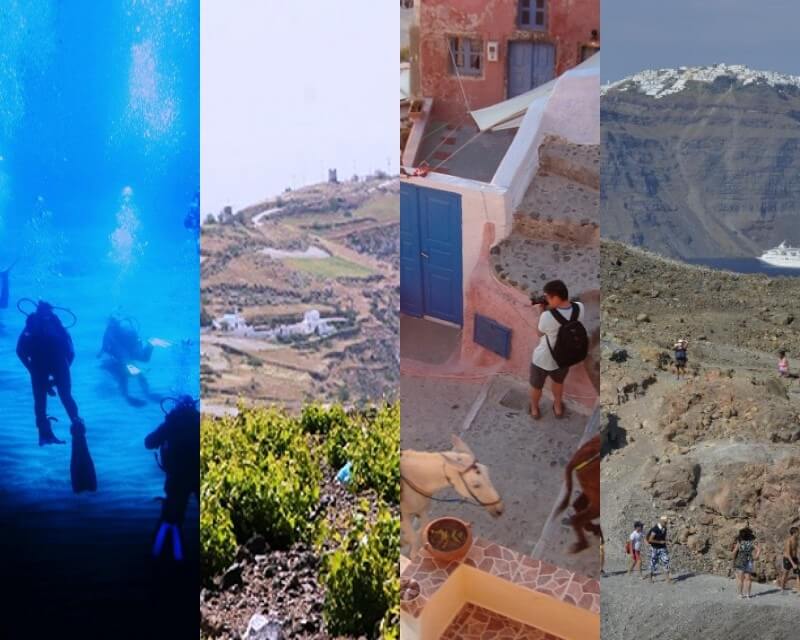 For active travelers who want to get the most out of their stay in this unique island of rugged beauty, there is a plethora of activities to choose. From diving into the mysterious sea bed to riding cute donkeys, Santorini has it all!
Diving
Diving in Santorini is an experience not to be missed as there is a whole underwater world to discover, due to the island's volcanic activity, a unique phenomenon in the Mediterranean Sea.  The strong volcanic eruptions have created a magnificent underwater scenery, giving scuba diving lovers endless options for wall dives and never ending drop-offs around the Caldera and the Volcanic islets.
Hot Springs
Take a day trip to the volcanic islets of Nea and Palea Kameni located in the centre of Caldera. These islets are some of the most popular attractions in Santorini accessible only by boat. Swim in the hot reddish water and feel the strange warmth in your body. You can also climb the volcano and take a closer look on the crater!
Wine tours
This one goes for visitors having a passion for wine! Thanks to its long tradition in wine-making, Santorini features many traditional and more modern vineyards producing the world famous Vinsanto! So, opt for a wine tour in any of the island's wineries and spend your day discovering the wine making procedures or tasting some exceptional wine!
Sightseeing
For an educational day out, visit the archaeological site of Akrotiri considered to be a Minoan colony which was destroyed by the violent 17th century BC earthquake, as most of the settlements in Santorini. Thanks to the recent renovations the site is now completed shaded and even friendlier to visitors.
Donkey riding
Donkeys in Santorini are part of the island's charm and local culture. These cute animals have been serving the locals for years, transferring the tourists up and down the steep steps of Santorini, from the port to the top of Fira. Give it a go if you seek an off-the-beaten-track experience!
For more inspiration visit our Facebook page or Foursquare list!