The earth rotates, the sun disappears.
Sunsets are never the same, just like you every day. Adapt, overcome, evolve and go chase them like a pro, where else but in Santorini.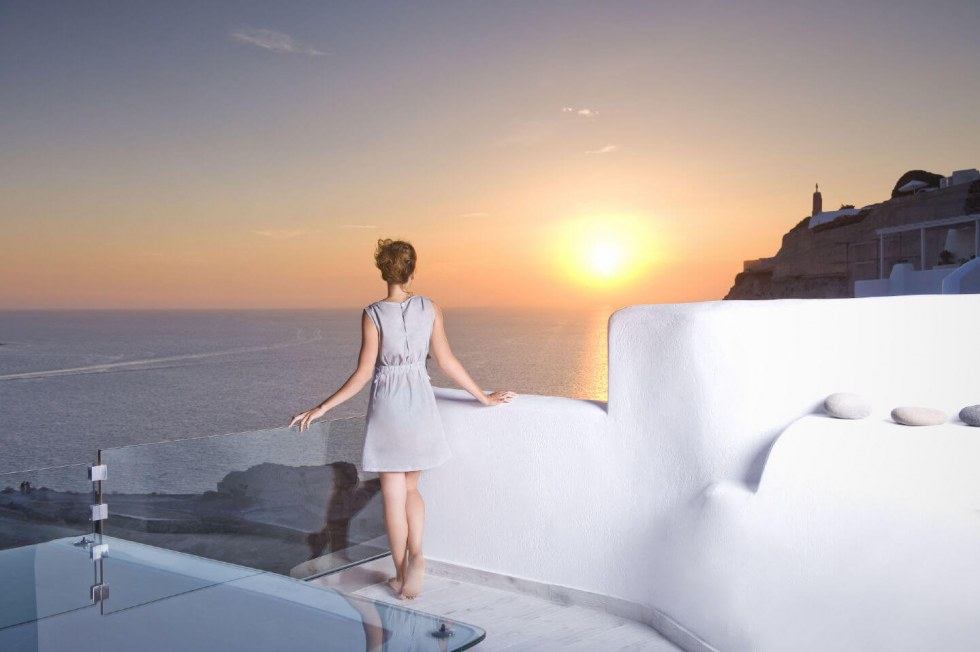 The magic of a sunset is real, almost tangible. There are so many things that will get you on a sunset-high. It's the shameless col-orgy in the sky, it's the promise of a new dawn, it's the proof that no matter what happens, everyday can end beautifully, and tomorrow is another day. Now, in that cocktail mix, add the electric Caldera vibes and you get yourselves the Santorini sunset miracle explained. However, this may be the only case where you don't have to explain anything. Just allow it to drench you in its magic, in selected and premium location spots around our island.
Oia
Meet and greet the Queen of Sunsets, Oia. Her majesty will welcome you to the golden hour with its calendar captures. It's no wonder that all Art Maisons Hotels, Aspaki Santorini Luxury Hotel and Suites and Oia Castle Luxury Hotel Santorini offer breathtaking sunset views in the majestic embrace of the Caldera. Witness the ultimate, romance extravaganza from your suite and make the whole world jealous. You'll feel like it's yours this way.
Fira
The vibrant capital of Santorini, Fira, with its cliff-hanging, white-washed and blue domed character will offer you the supreme sunset experience with a city buzz. The postcard effect is still on, as the deep blue Aegean Sea blends perfectly with the poetic sunset scenery, not tο mention the infatuating aura of the mythical volcano. This capital town surely comes from a novel story-book.
Megalochori
Now, let's take it down a notch. If you want your time alone with the sunset, then Megalochori is the place for you. Here, the sunset comes from a different angle than Oia and Fira, and you will get a more quiet and tranquil experience away from the highly-appreciative sunset crowds that can sometimes feel like a horde. Find peace with yourself, connect with others on truest level and embrace one of the most beautiful wonders of nature, with the unique signature of Santorini.
Classify sunsets as the epitome of romance and allow yourselves to be graced by them anywhere and any way you can while here, in Santorini. Turn your face to the sun and let the magnificent charm of the sunset elevate your soul.