Santorini Colors
Regardless of whether you believe in the existence of God or not, you will concur that some places have been created with a divine touch.
We are convinced that this case applies to our gorgeous Santorini island. It's exuberant colour palette cannot be effectively captured by any lens, as it exceeds visitors' expectations time and time again with its sublime vibrance. Let's take a closer look at the divine colour palette of Santorini.
White
Open your eyes, clean bright white walls surround you and light up your senses inside your private and secluded living area. Step outside, white houses stun your Caldera views and leave you in awe and gratefulness to be apart of this dreamworld.
Blue
It is safe to say that blue is God's favorite color of choice, as it dominated this mood board. So many different shades, so many different feelings. The winning combo is when the sky blue meets the sea blue. It's you against the blue world. It's you becoming part of its immensity. Feel what you want to feel, the stage is yours.
Red
We are not just pretty, we are hot too. Red hot, actually. This is the volcano talking its way through our Red beach. Volcanic lava made it red, and we made it one of our top beach choices.
Black
The volcano keeps talking, and we keep on walking to reach our majestic, but this time black tinted, beaches. Perissa Beach, makes the top three, as it is more easily accessible. Wear those walking shoes like you mean it, we said we were hot the first time.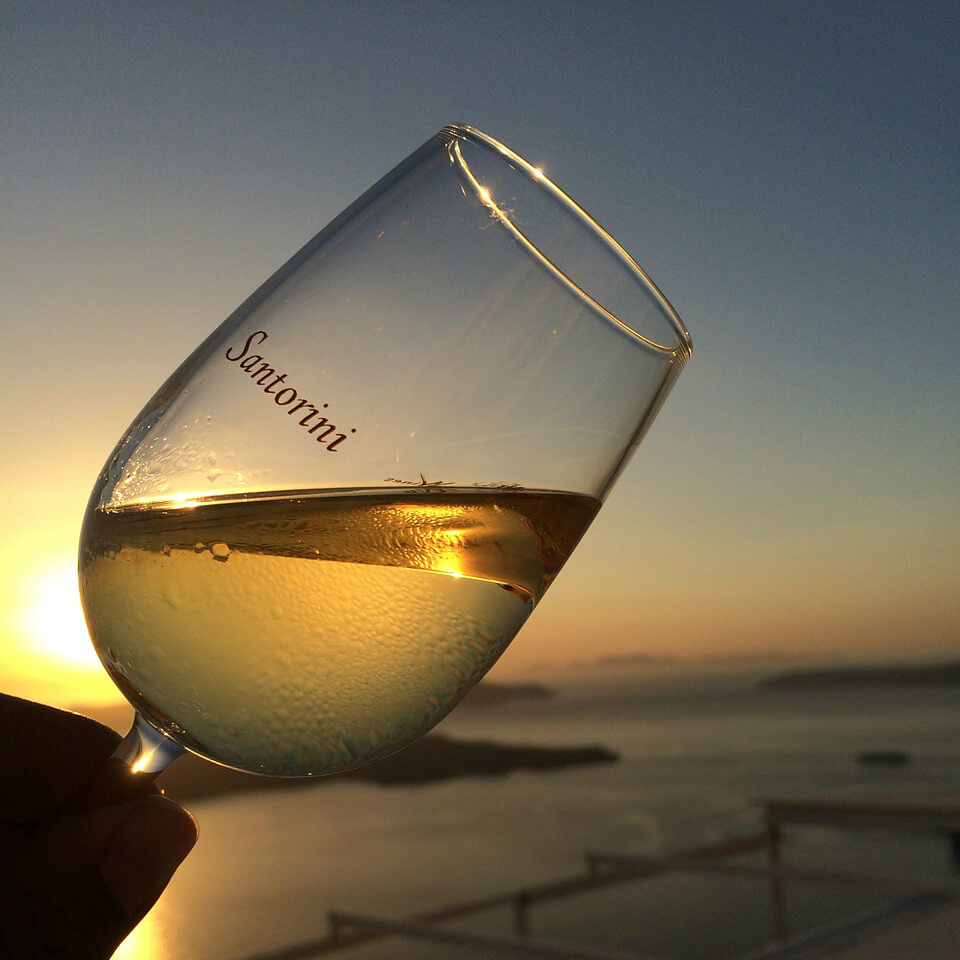 Yellow
I don't know if you guessed right, but we are talking about our wines. So many vineyards and wineries across our island making the finest local wine, as if our natural beauty was not already intoxicating enough. Lift your glass of wine to the sun. Just do it. See? Yellow diamonds in the light…
Orange
A World-class famous sunset. It is our view extravaganza, our super-star vista diva. Everyone from around the world visits to take her photo. Of course the Santorinian sunset is a "She", and she loves to pose for you every single time showing off her stunning looks.
To be in Santorini is to be part of this divine colour palette. And, to use an expression from a famous Greek writer, Nikos Kazantzakis:
«Έχεις τα πινέλα, έχεις τα χρώματα, ζωγράφισε τον παράδεισο και μπες μέσα»
"You have the paintbrushes, you have the colours, paint paradise and enter"
Whether you wish to delve into a paradise of your own making or draw us like one of your "Greek" girls, but book your stay at Art Maisons Exclusive Hotels first.