The Romantic Aspect of Santorini
Few can deny the romantic aspect of Santorini. People from all over the globe come here to celebrate their love or reveal it to their person of interest!
This post is for the latters. If you're thinking of proposing to your loved one, male or female, look no further than these brilliant ideas following.
Oia Sunset
What's more instagram worthy than a marriage proposal during sunset, at the most renown view in the world? Oia, no matter how "predictable" it may be, is still one of the best and most romantic places to declare your eternal love to your one and only. Keep in mind, that you probably won't see the sunset only once, and being so romantic if you're acting a bit weird and go there first thing when you arrive, the proposal may not be much of a surprise. How about you do it next day or something? Maybe last day before you leave?
Heart-Rock in Megalochori
Somewhere hidden from the tourist destinations and points of interest, lies a naturally curved heart-shaped rock with direct view to the small volcanic islets after referred to as "the volcano". This spot that few locals and tourists know, could possibly provide the best setting for a wedding proposal. It appears like mother nature screams "love" in this place and we're simply here to oblige.
Agios Nikolaos Chapel on the Megalochori caldera
In one of the most distinct sceneries you'll ever witness, the small chapel of Agios Nikolaos is almost carved on the caldera, with its bell tower barely visible. It's actually a short distance from the Heart-Rock, making it extra special!
Oia's highest point
Conveniently and in typical Cycladic fashion, the highest point of Oia town is a small church. You'll have to walk uphill for about 25 -30 minutes, along the caldera from Oia, but the view is really worth it. However it's not recommended to wear fancy, smart outfits for this occasion, keep it casual and summery, making the proposition even more of a surprise.
Akrotiri's Lighthouse
We promise you, this is a real winner! The view from the lighthouse is equally beautiful and unique as Oia's, however there are no crowds of tourists threatening to ruin your proposal. The Lighthouse is a hidden treasure by itself, but the metaphor of proposing under a lighthouse that shows you the way is unbeatable.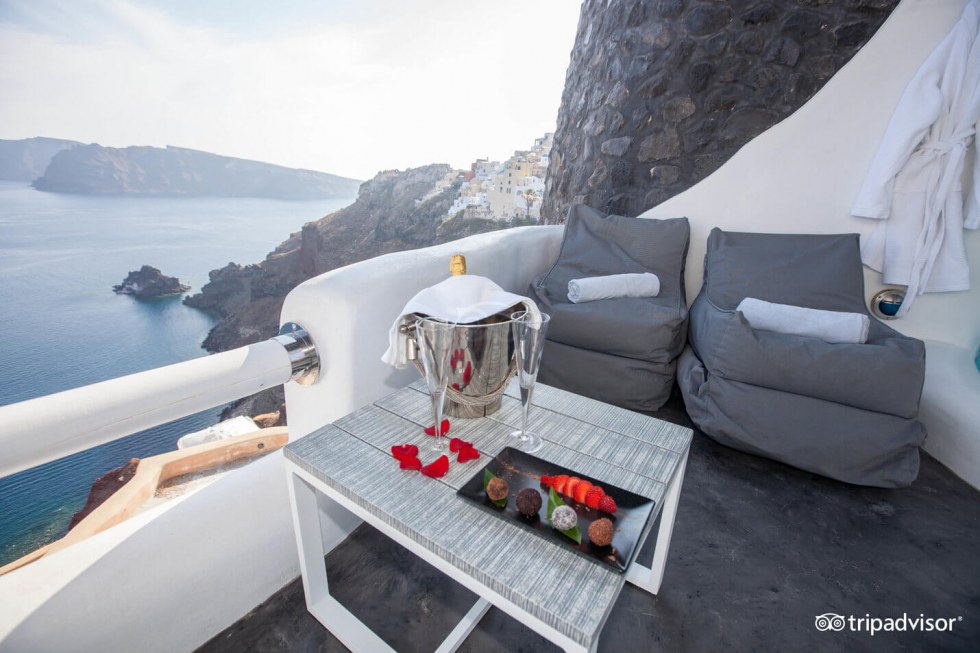 At Art Maisons
With the much needed privacy, but also an amazing caldera view, what better place to propose to your loved one, than the intimacy of your Art Maisons villa or suite? Wake them up in the morning, with their ring in your hands, or propose during dinner time on the balcony… the options are limitless. Ask our front desk for help with your proposal, they'll do everything they can to make it the most romantic proposal ever!