Inspiration for your Special Day
Perched on the steep cliffs of volcanic Caldera, the village of Oia offers magnificent views over the vastness of the Aegean Sea and the imposing volcano emerging from the water.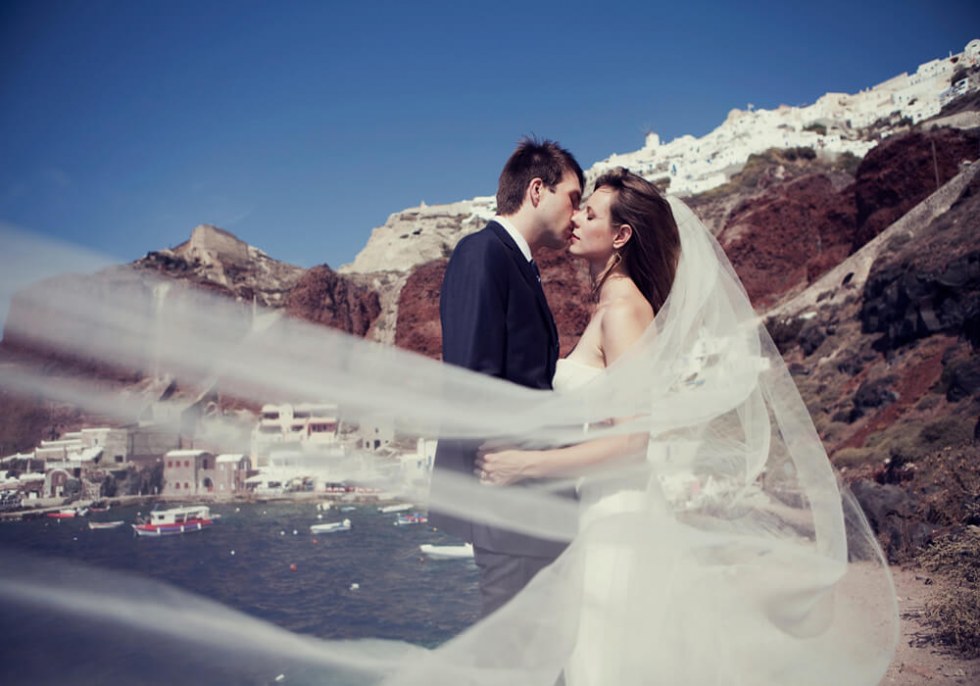 As it is amphitheatrically built, Oia is a place of unique beauty perfectly blending the smooth-lined whitewashed houses with the blue sky.
This exact marvelous scenery is chosen every year by people who want to join their lives in an idyllic atmosphere that will make their special day a memorable one. Therefore, Art Maisons has created a special area in the property of Aspaki, where your perfect wedding or vow renewal could be gracefully held right on the edge of the cliffs. If you find it hard to mess up with the wedding planning, then allow us to organize the perfect wedding for you and your significant other with the assistance of our expert wedding planner.
What's more, thanks to its exquisite location, Aspaki Exclusive Suites also boasts the ideal setting for a honeymoon in luxury and absolute privacy! Particularly for newlywed couples, Aspaki features two suites for lovebirds to enjoy their honeymoon bliss to the maximum. The warm, soft colors that decorate the two honeymoon suites create the perfect ambience for that special moment. The cave bedroom with queen-size bed and romantic furniture takes you to amorous times gone by. Walk into your balcony to be greeted with an awe inspiring view of blue domed churches dotting the landscape and white washed cave homes hanging from the cliffs over the azure Aegean Sea. Highlight of these suites is the hydro-massage Jacuzzi on the private balcony to witness in peace the most spectacular views of Caldera and the majestic Volcano rising from the depth of the sea.
Say "Yes" to Santorini and experience an utterly romantic wedding made to last forever!
Visit our Facebook page and get inspired!