A Unique Stay in Art Maisons
Featuring two fantastic only-suites complexes, Art Maisons offers its guests a unique stay in individual settings!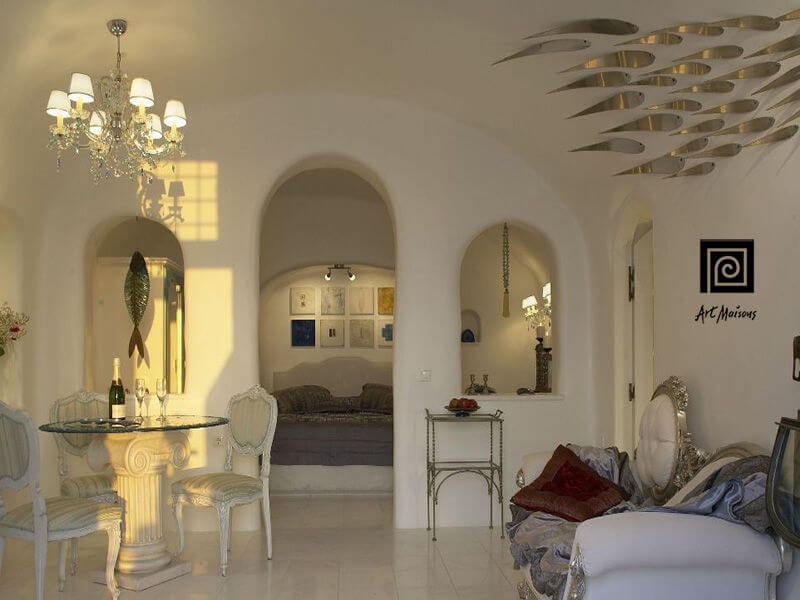 All of the suites in both complexes, Aspaki and Oia Castle, are characterized by elegance and style thanks to their classy decoration and artistic details.
Located right on the edge of Caldera's volcanic cliffs, Aspaki consists of 8 suites with unsurpassed view to the sea and the imposing volcano in the middle. Apart from ultimate privacy for guests who seek a holiday filled with relaxation, calmness and quality time, suites at Aspaki are individually decorated. In some, stylish touches with a minimal tendency prevail, while others, such as the Exclusive Suites include antique-style furnishings always in combination with more modern aspects. Nevertheless, all of Aspaki's suites have breathtaking views from their private balcony or terrace.
On the other hand, Oia Castle's suites and villas were recreated from the romantic past, as the building was an actual castle! Suites display unique decorations creating a totally different style for each property. The lavish details will delight you as you soak up the Caldera views, the Aegean Sea and the dreamlike traditional village, from your own private viewing platform at the world's most romantic sunset!  In general, the atmosphere inspired by the building's once glorious past travels guests back in time in style. Romantic, vintage and antique furnishings are here for an utterly romantic setting, while highlight of every suite are its oversized double beds, some with canopy and others being totally stylish, yet always comfortable.
Just benefit from the inviting and ample sitting areas with elaborated furniture easily considered as pieces of art or relax and soak up the sun right on the sea view terraces, some featuring an outdoor hot-tub. What's more guests can even take refreshing intimate dips in the in-room cave pools!
So, if you are longing to visit Santorini and also have a passion for art, Art Maisons would be ideal for you and your significant other, of course!
Follow us on Facebook to get more updates!