The Grace of Santorini's Churches
Let's explore some iconic churches out of a total of around 600 that grace Santorini's terrain.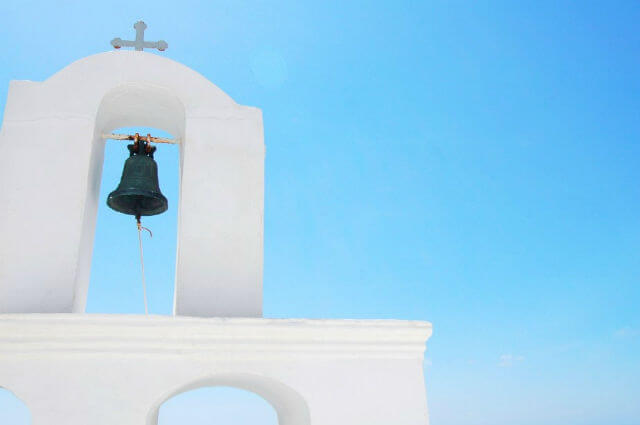 Santorini's churches are an inherent part of the island's character and charm, becoming a trademark of its alluring architecture. Essentially, they have become almost synonymous with Santorini, as they are considered an integral part of the wondrous landscape, that millions of tourists flock to every year.
The island is literally heaving with churches and chapels. And this can be explained, considering the tumultuous history of the Santorini. Tormented by its nemesis, the volcano and it's eruption, Santorini has survived not only a natural disaster which caused the islands' transformation, but also numerous conquests over the ages. These circumstances cultivated an environment of insecurity amongst the early inhabitants of the island, who turned to God for protection, thus reinforcing their religious ardour. Keeping in mind that light represents the presence of God, symbolism between Santorini's churches and sanctity is evidently apparent.
Quite specific in their architectural style, they mostly feature a cubist design, with few and narrow openings to weather the storms and island winds. Predominantly white, although not exclusively, there are only a few blue domed churches, and most of them feature beautiful bell towers. The plain, whitewashed surfaces perfectly reflect the light, which can be associated with spiritual ascension, thus personifying the symbolism of God's truth, purity and eternity.
Here we explore the most iconic churches of Santorini's cobblestone streets, that are the true embodiment of the frugal essence of God, inspired by the season of Christ's birth.
The Catholic Cathedral Church of St. John Baptist is the exception to the rule of white, and is quite striking and peculiar with its rebellious peach exterior, its ornate clock tower and the sophisticated touches of lilac blue.
In close proximity, lies the more typical Orthodox Metropolitan Church, which is stark white all over. It's external plainness is enhanced by a series of arches that run along its perimeter, while the impressive interiors that feature some amazing frescoes, provide an alluring contrast.
St. Gerasimos Christian Church is one with an absolutely incomparable view into the Aegean blue, and features the aforementioned characteristic blue dome, and bell tower.
And finally, the Church of Panagia Platsani in Oia combines all the elements of the typical architecture with a high charm factor. On a stunning location, this church is dedicated to the Virgin Mary and has often been described as one of the most enchanting. Given its amazing locations, visitors must definitely experience its aura first hand.
Which one is your favouite?