The Ideal Romantic Place
If you are looking for the ideal place to celebrate your love, then look no further than the volcanic island of Santorini!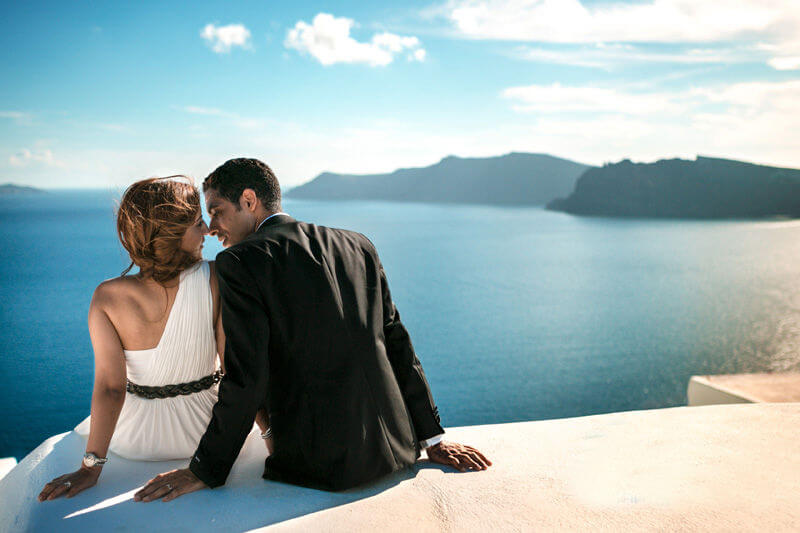 Thanks to its rugged beauty, prevailing reddish color of the steep rocks and whitewashed houses, Santorini is considered the most romantic place to visit with your other half by lovebirds all around the world!
Amorous spots abound on this divine piece of land located right in the middle of the vast Aegean Sea, so if you are a couple you' ll probably want to explore them all and the find one than will make for the ideal setting to live utterly loving moments. Ideas and suggestions are countless, however Art Maisons has created a list for a romantic safari filled with secluded corners and breathtaking views that will allow your deepest feelings flow easily. Start your holiday in a luxurious and tastefully decorated suite, such as the honeymoon suites at the property of Aspaki. The warm, soft colors that decorate the two honeymoon suites create the perfect ambiance for that special moment.
The cave bedroom with Queen-size bed and romantic furniture takes you to amorous times gone by. Add an aromatic touch to your stay and take you beloved one to Ginger Sushi Lounge for exceptional Japanese specialties and hot sake. For cocktails and stunning sunset views go to Tropical bar in Fira. Sip your margarita and dance the night away.
Place your order to the DJ and express your love with a song! And for nature lovers, Santorini offers great beaches and secluded coves for just the 2 of you! Visit the famous Red Beach, named after the huge red rocks surrounding it, or take the boat to the neighboring White Beach for a relaxing day on the beach, where there will be only you, the sea and the bright Greek sun!
If you've made up your mind, but still looking for the right time to scream your feelings out loud, then visit Santorini this summer and let your romantic safari begin!