The Art of Santorini
Perched on the volcanic cliffs of red-rock Caldera, both properties of Art Maisons boast magnificent views over the vast Aegean Sea and the imposing volcano right in the middle of the water!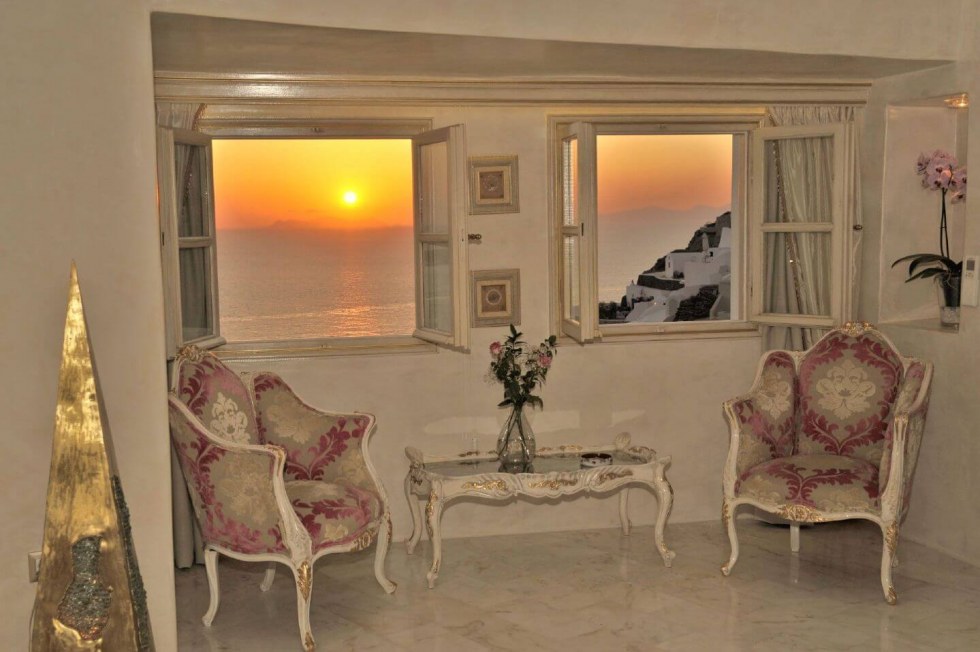 However, luxurious suites at Aspaki and Oia Castle are not only about mesmerizing sea views. Art Maisons has been designed and built in harmony with the traditional surrounding area. Featuring typical Cycladic architecture with smooth curved lines and whitewashed walls, all of the suites at Art Maisons provide guests with an utterly calm atmosphere ideal for a relaxing and totally romantic holiday in the magical island of Santorini. Although similar from the outside, every eco-friendly suite at Art Maisons has unique style, design and architectural details. Inspired by the volcano and its energy, some cave suites are decorated with black and red stone patterns perfectly blending with the white sculptured walls. Others, such as the Olympic Deluxe Villa feature details from ancient Greece, including spiritual shapes of the walls, white marbles and golden touches. The overall decoration is characterized by sculptured walls, earthy tones and ample open-plan spaces for absolute comfort. Some of the cave-style suites at Art Maisons offer large heated indoor swimming pools with hydro-massage jets for truly intimate moments in a properly Cycladic ambience. Reflections of the water add a light marine charm to excite your senses. Outdoor areas won't disappoint you as well! Curve-lined balconies and terraces offer a spacious area to soak up the sun and the spectacular views of the Caldera, the volcano and the picturesque village of Oia; plus a big pro, that is, the built-in heated Jacuzzi on the balcony inviting you to pamper yourself as you enjoy amazing experiences. All in all, the luxurious living environment created by Art Maisons makes for an imaginative combination of traditional architectural beauty, and modern comfort.
Visit our Facebook page and get even more inspired!