The Santorini Experience
The volcanic island of Santorini is considered to be a true paradise on earth! Perched on the red-rock cliffs of Caldera, the island boasts magnificent views over the sea and the imposing volcano, as well as an absolutely romantic atmosphere during its world famous magical sunset.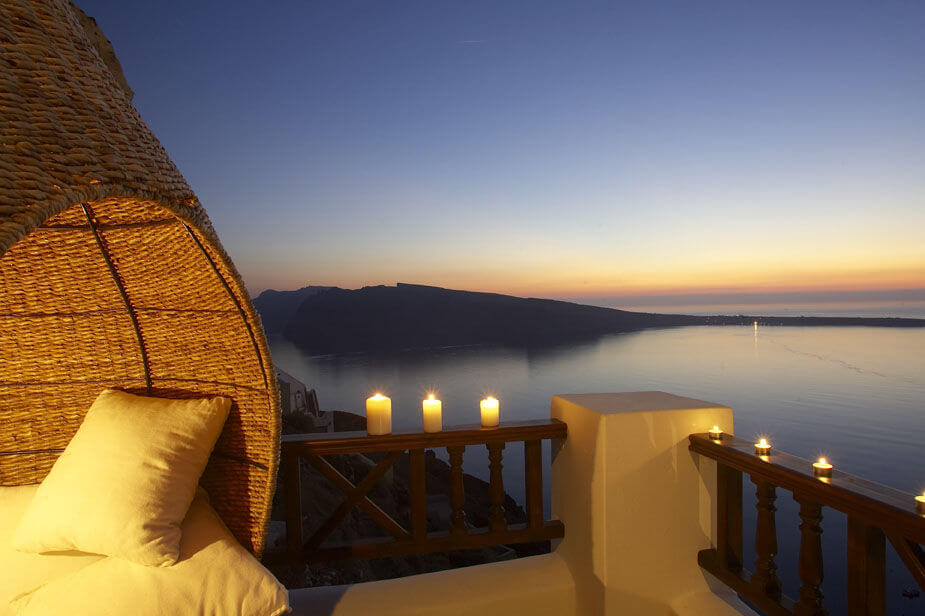 However, this half-circle shaped island is not only about romance and top-notch accommodation. Santorini has much to do and see. So you'd better dedicate a good deal of time on this beautiful island and get the most out of your stay here!
A 5-day holiday would be enough to enjoy all the experiences Santorini has to offer. So let's start! Don't leave the island unless you have been to at least some of its unique lunar landscaped beaches. Visit the atmospheric Red Beach and swim in its crystal clear waters or take the boat and spend a romantic day on the White Beach right beside. If you prefer more lively and organized beaches head to the black-sand beaches of Kamari or Perissa featuring sun beds and umbrellas, plus a selection of beach bars and snack bars. After soaking up that all important sun, sea and sand, plan a tour around the island's sights, such as the prehistoric settlement of Akrotiri, the ancient Thira and the Archaeological Museum of Thira. And when your inner history buff is satisfied, it's time for some relaxation, fun and delight. If you seek original Greek cuisine, then visit Argo Restaurant in the main town, Fira. Here you'll taste mouthwatering Greek dishes and local specialties overlooking the colorful sunset. For refreshing cocktails, cheerful music and long dancing head to Tropical bar in Fira. You won't be disappointed!
Last but not least, for some off-the-beaten-track experience you can visit the Boutari Winery, one of Santorini's oldest wineries and go on a wine-tour around its vineyards producing the divine Vinsanto wine or even attend wine-tasting sessions organized by their staff. What's more to reach beaches or scenic areas, where access is difficult, you definitely have to go on a donkey ride. These cute and harmless animals will take you to places you've never imagined!
See our recommendations on the foursquare list below…
Time is never enough for Santorini, so plan wise and seize your days on this divine piece of land!